Innovative developments at Bangor University have meant that a man who lost his voice following cancer treatments two years ago is now able to communicate in his own synthetic voice.
The story is now being told as part of a TV documentary series which is now being featured in the UK. The episode features former University staff member, John Wyn Jones. He was helped by the efforts of the Language Technologies Unit at Canolfan Bedwyr, Bangor University's Centre for Welsh Language Services, Technology and Research which created a synthetic voice for him. The project was developed in partnership with Betsi Cadwaladr University Health Board.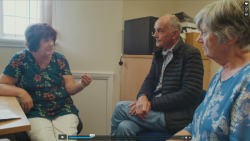 (From left) Delyth Prys, John Wyn and his wife, Nan. Image: Ffilmiau Twm Twm

John had earned his living as a spokesperson for the University so his voice had played a very important part in his life. When he and his wife Nan discovered the information that synthetic voices were being developed by the Language Technologies Unit, she decided to contact them.
The 'Lleisiwr' program from the Language Technologies Unit is a type of software that creates a Welsh synthetic voice based on sounds that are specific to the language. The development of the program was sponsored by the Welsh Government and the purpose of the project is to create personal synthetic voices for patients who are due to lose their ability to speak due to conditions such as throat cancer. By using a computer, phone or tablet, 'Lleisiwr' enables patients like John to type a message in their preferred language and play an audio clip of the message in their own unique synthetic voice.
In John's case, the ability to record the text had already been lost but, using audio clips from the family archive and contributions from a family member the Unit's software engineers and linguistic experts set about recreating his voice.
This latest innovation from the Language Technologies Unit is just part of the multi-faceted research programs which take place at the University. More than three quarters of the research at Bangor University is recognized as "world-leading or internationally excellent."If you would like to become part of the ground-breaking research being done here and are applying from Canada please contact Barclay Educational Services. Barclay is a recognized Canadian agent of Bangor so there is no charge to students for our assistance. The University pays our fee.
For more information about the 'Lleisiwr' program, please visit https://lleisiwr.techiaith.cymru/?lang=en.